【 

Yumedono

 】
Our champion sake.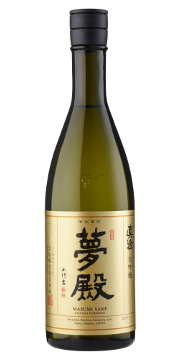 Made specially for the National Competition, Yumedono has a solid-gold record of wins.
{ 

Master brewer's comments

 }
As our competition sake, Yumedono has been put entirely into the hands of our brewing staff. The result is a hand-crafted sake with very intense fruit aromas, pleasant sweetness and mild acidity that makes an impression from the first cup.
{ 

Food pairing suggestions

 }
Light, delicate cuisine, white-meat sashimi, steamed fish, canapes, hors d'oeuvres.
Name: Yumedono
Type: Daiginjo Genshu Nama Chozo
Availability: Year-round
Ingredients: Rice, water, koji, yeast, distilled alcohol
Rice:

Yamada Nishiki (Hyogo Pref.)
Polishing rate: 40%
Yeast: No. 18
Alcohol: 17% range
SMV: -3
Acidity: 1.3
Amino acidity: 0.8
Serving temperature: Chilled
Storage: Refrigerate
720ml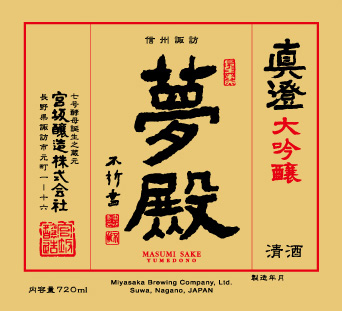 Label translation