【 

Sanka

 】
As fresh and inviting as an alpine meadow.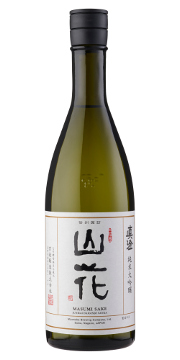 Sanka (mountain flower) is the perfect invitation to the world of premium sake. Sanka's fresh fragrance and elegant taste is popular from New York to Hong Kong.
{ 

Master brewer's comments

 }
Sanka has a fresh, natural flavor that builds from cup to cup. An exceptionally easy-going super premium daiginjo.
{ 

Food pairing suggestions

 }
White-meat fish & shellfish, chicken, salads, light pasta, green herbs.
Name: Sanka
Type: Junmai Daiginjo
Availability: Year-round
Ingredients: Rice, water, koji, yeast
Rice:

Yamada Nishiki (Hyogo Pref.)
Polishing rate: 45%
Yeast: No. 9, No. 18, No. 7
Alcohol: 16% range
SMV: +3
Acidity: 1.9
Amino acidity: 1.2
Serving temperature: Chilled
Storage: Cool, dark

1.5L / 720ml / 300ml