【 

Hiyaoroshi

 】
Awakened for autumn, beautifully fresh and gracefully aged.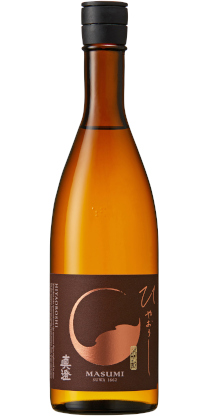 A yamahai sake pressed in March, kept fresh in cool storage til summer's end, then awakened in autumn. Mild fruit aromas drift above the acidity, sweetness, and savory finish of a well-matured junmai ginjo.
{ 

Food pairing suggestions

 }
Great with rich, autumn food like red-meat fish and shellfish, stewed mushrooms and root vegetables, roast pork and beef, cured meat and poultry. Also good with dairy and cheese dishes.
Name: Hiyaoroshi
Type: Junmai Ginjo Yamahai
Availability: September release
Ingredients: Rice, water, koji, yeast
Rice:

Miyama Nishiki, Hitogokochi (both Nagano Pref.)
Polishing rate: 55%
Yeast: Masumi No. 7
Alcohol: 15%
SMV:
Acidity:
Amino acidity:
Serving temperature: Lightly chilled to moderately warm
Storage: Cool, dark