【 

Yuzu Liqueur

 】
Yuzu citrus juice, sugar, & Masumi shochu: simply delicious!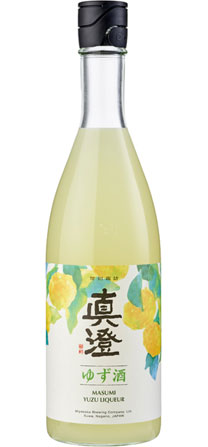 Yuzu, the magic ingredient livening up many Japanese dishes, gets star-billing in this simple, delightfully fragrant liqueur.
{ 

Master brewer's comments

 }
We use fresh yuzu citrus fruits directly from the growers, and steep them in sugar and our own shochu.
{ 

Food pairing suggestions

 }
Enjoy as an aperitif, after a meal, or on its own.
Fabulous with dark chocolate.
Name: Yuzu Liqueur
Type: Shochu-base fruit liqueur
Availability: Year-round
Ingredients: Masumi shochu, sugar, yuzu juice
Rice:
Polishing rate:
Yeast:
Alcohol: 14%
SMV:
Acidity:
Amino acidity:
Serving temperature: Straight, on-the rocks, frozen
Storage: Cool, dark
•720ml •300ml  
Label translation