【 

Hiyaoroshi

 】
Awakened for autumn, beautifully fresh and gracefully aged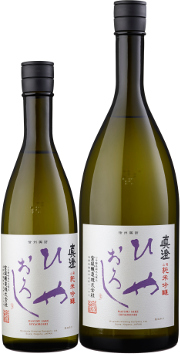 A yamahai sake pressed in March, kept fresh in sub-zero storage til summer's end, then awakened in autumn. Fresh young fruit aromas soar above the acidity, sweetness, and savory finish of a well-matured junmai ginjo.
{ 

Master brewer's comments

 }
This year we switched to 100% Miyama Nishiki rice, which yielded a lighter, drier character. Still has a freshening aroma followed by well-integrated sweet and savory maturity.
{ 

Food pairing suggestions

 }
Shichuan "mabo" eggplant, marinated Japanese mushrooms and other autumn dishes, roast pork with sweet onion and hot mustard sauce
Name: Hiyaoroshi
Type: Junmai Ginjo
Availability: Release: September
Ingredients: Rice, Water, Koji, Yeast
Rice:

Miyama Nishiki (Nagano Pref.)
Polishing rate: 55%
Yeast: Alps
Alcohol: 15%
SMV: +1
Acidity: 1.6
Amino acidity: 1.3
Serving temperature: Best chilled; Good at room temperature or warm
Storage: Refrigerate